Students Explore Careers at Local Employer Site Visits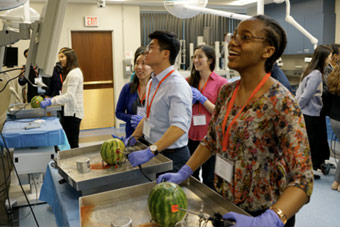 Career Advising and Professional Development (CAPD) arranged a number of local employer site visits which took place over the Independent Activities Period (IAP). Open to students from all class years and courses, employer site visits are designed to help students explore various careers and work environments, learn about different professions and industries, and interact with alumni while expanding their professional networks and contacts.
Over 120 students and staff members participated in the nine visits that occurred throughout IAP. This year, site visits took place in Boston, Cambridge, Natick, and Raynham, giving students an opportunity to visit Optimus Ride, Autonodyne, PathAI, Weiss Asset Management, Cogo Labs, Eli Lilly, Oracle, Mathworks and DePu Synthes. A typical employer site visit lasts two hours and consists of an employer presentation and information session, panel of employees, company tour, and time to network with professionals.
Students who visited Depuy Sythes, which is part of the Johnson & Johnson Medical Devices group, were treated to a day-long visit that centered on the product development process, device manufacturing, and testing of a portfolio of orthopedic products and services in the areas of joint reconstruction, trauma, spine, and sports medicine. Groups of students toured the manufacturing operations, 3D printing lab, and research and testing lab. Over lunch students received career advice from a diverse panel of professionals many of whom were MIT alumni. For the remainder of the afternoon, students participated in a product development process exercise to plan for a new spinal screw and rod system meant to correct scoliosis deformities, and practiced arthroscopic surgery on a watermelon in the clinical simulations lab.
Mathworks structured their site visit around the work of their Engineering Development Group (EDG), which helps customers solve technical problems using MATLAB® and Simulink®. Small groups of students rotated and met with EDG team members who each took 10 minutes to discuss their project work and answer questions. Students also learned about the origins of Mathworks, which was founded by an MIT alum in 1984, sold its first order of 10 copies of its software to MIT, and since has developed close connections to many departments across MIT. A panel of five MIT alumni and recent hires at Mathworks closed the visit by offering career advice and tips on the transition from MIT to employment.
A common theme heard from student participants is that the site visits were a great opportunity to view the workplace and reflect on their desired career. In particular, for many, the visit was a chance to learn about industry experiences as they consider pursuing either academia or industry. Students also value that visits highlighted the engineering process from small scale to large scale, how work across a company is intertwined among the different functions, and how beneficial it can be to explore different departments and roles while being able to see how they operate in their element.
A significant amount of planning and logistics go into making the employer visits work, and CAPD is grateful for the collaboration from our on-campus and employer partners. Departments and programs wishing to partner with CAPD on having students explore employers and careers through an employer site visit Francis Borrego at fborrego@mit.edu.
—Francis Borrego, CAPD