Spring Semester Highlights in MIT's Naval ROTC Program
Spring 2023 was a busy time for Navy ROTC! The Midshipmen of the Old Ironsides Battalion took full advantage of being in Boston, enjoying the gradually improving weather as the semester progressed. They participated in several indoor and outdoor activities and events, as post-Covid life resumes.
A few highlights of the semester included hosting an admiral and a vice admiral to leadership lab; sailing on the Charles; and a visit to a local escape room. "Dining In" occurred in April. This is a long-standing and cherished military tradition where the members of the unit gather together to dine in formal attire. It is held to strengthen the bonds of friendship and promote camaraderie among Battalion members.
The pinnacle of the semester, however, and the NROTC career highlight of a midshipman (MIDN), is being commissioned as an officer in their respective branch of service upon graduation.
Five Navy MIDN from the unit commissioned at Harvard on May 24, and one commissioned at Tufts on May 20.
On June 1, NROTC hosted the Joint Services ROTC Commissioning Ceremony for the MIT Class of 2023. This was the second such in-person joint ceremony held in as many years, on a gloriously sunny and hot day.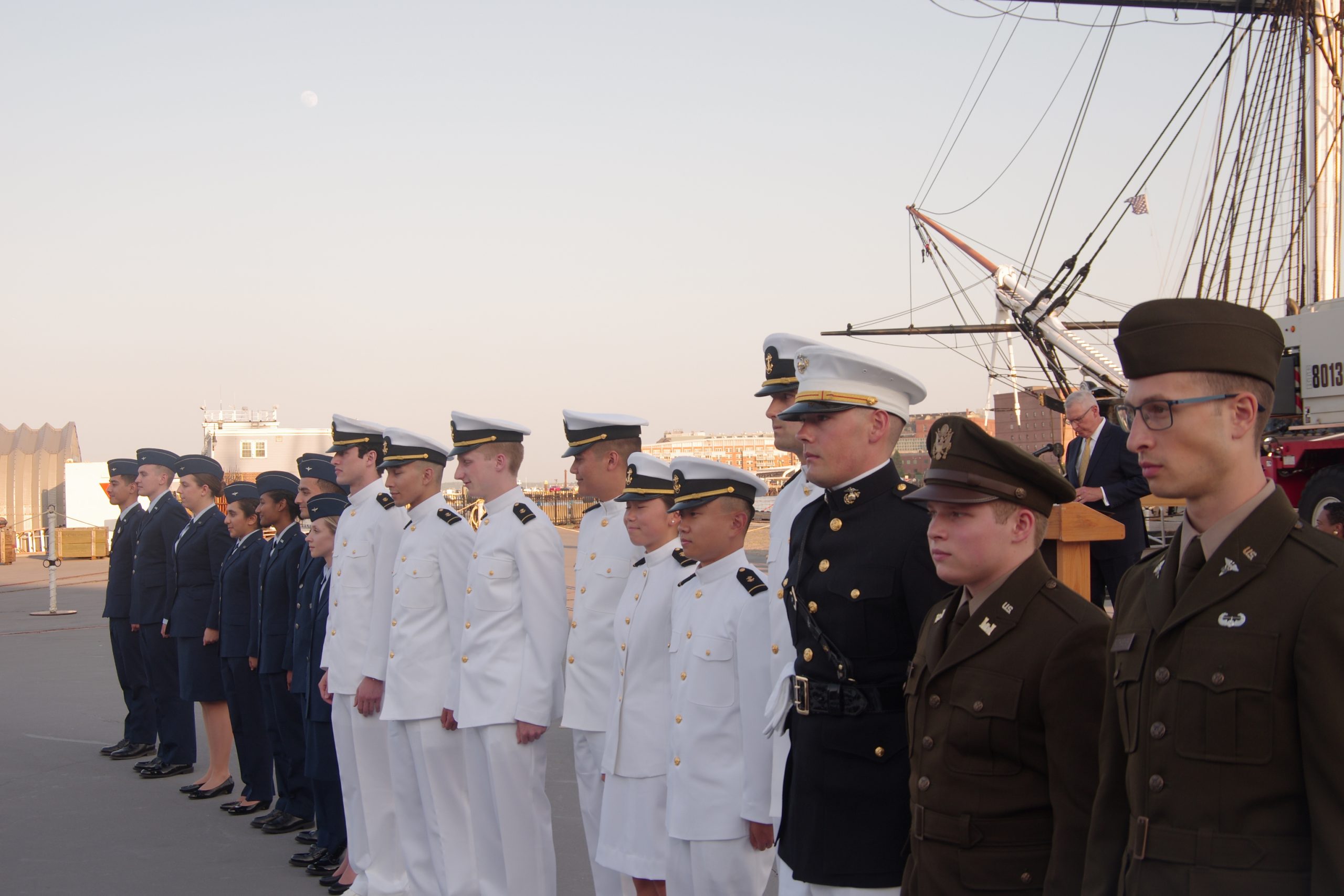 We were thrilled that Chancellor Melissa Nobles and Vice Admiral Kevin McCoy, USN (retired) joined us on this auspicious occasion as MIT speaker and guest of honor, respectively. Navy ROTC and Air Force/Space Force ROTC each commissioned eight new officers, and Army ROTC, two. Family, friends and ROTC staff celebrated the commissioned students' tremendous achievement dockside at the USS Constitution, accompanied by the US Navy Band Northeast. They then gathered at a catered reception at the USS Constitution Museum immediately following the ceremony.
We congratulate all members of the MIT Joint Commissioning Class of 2023, and wish all the new officers much success in their military careers.
— Lisa Breen, MIT Navy ROTC