Save the Date for MacVicar Day 2020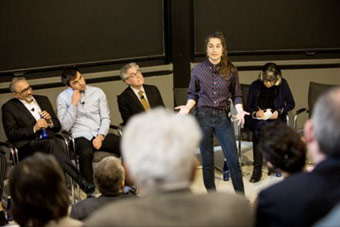 The Office of the Vice Chancellor and the Registrar's Office are pleased to announce this year's MacVicar Day program. The event will take place on Friday, March 13 at 2:30 pm in Building 6, Room 120.
In addition to celebrating the 2020 MacVicar Faculty Fellows, Vice Chancellor Ian Waitz will host a series of lightning talks by MIT professors and students. Speakers will examine how MIT — through its many opportunities for experiential learning — supports students' aspirations and encourages them to become engaged citizens and thoughtful leaders.
All in the MIT community are welcome. More information will be available on the MacVicar web page as the event approaches.
About the MacVicar Faculty Fellows Program
Named to honor the life and contributions of the late Margaret MacVicar, Professor of Physical Science and Dean for Undergraduate Education, the MacVicar Faculty Fellows Program recognizes faculty who have made exemplary and sustained contributions to the teaching and education of undergraduates at MIT. Fellows are selected through a competitive annual nomination process. They hail from all corners of the Institute and represent a diverse range of academic disciplines. Together, the Fellows form a small academy of scholars committed to exceptional instruction and innovation in education, embodying through their work the continuing promise of an MIT education for the future.
— Alison Trachy, Registrar's Office