Pay is an Absolute Value: MIT's Equal Pay Working Group
What is the Equal Pay Working Group?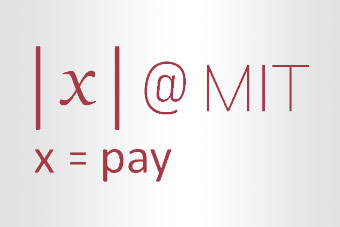 MIT's newly launched Equal Pay Working Group has been working since summer 2020 to raise awareness of the issue of pay inequity. Led by CAPD and AMITA, (Association of MIT Alumnae), the group comprises students and staff from UPOP, SWE, GWAMIT, Women and Gender Studies, Sloan Alumni Relations, Sloan Career Development Office and the MIT School of Engineering Communication Lab. The group's mission is to collaborate to promote pay equity for MIT students and graduates from diverse backgrounds and experiences at the beginning and throughout their career. The Equal Pay Working Group is working hard on the following:
Compiling data on pay equity for students and graduates from all backgrounds
Generating resources to create a centralized webpage and relevant programing, including a September workshop, A Conversation about Pay Equity (link goes to transcript and recording)
Launching the Absolute Value Pay Equity Campaign to build awareness and promote impact
Why is this topic important?
After college graduation, the playing fields for men and women should be even. However, when women are not paid the same pay for the same work, they start off behind and continue to lose income as well as opportunities for advancement throughout their career. In general, women working full time in the U.S. are paid 82% of what men earn. And women with bachelor's degrees working full time are paid 26% less than their male peers. "If MIT is to be successful in its mission of 'educat[ing} students… that will best serve the nation and the world in the 21st century,' women as nearly 40% of MIT's student population, should be positioned equitably for success in terms of pay, opportunities and advancement," notes AMITA President and DUSP Professional Development Director/Lecturer, Mary Jane Daly MCP'83.
What is March 24, 2021?
March 24, 2021 has been acknowledged as All Women Equal Pay Day. Equal Pay Day was originated by the National Committee on Pay Equity (NCPE) in 1996. Recognizing the intersectionality of pay inequity, there are a number of Equal Pay Days in 2021 which vary based on race and ethnicity, including: Asian American & Pacific Islander (March 9), Black Women (August 3), Native American Women (September 8), and Latina Women (October 21).
Equal Pay Day symbolizes how far into the year women must work to earn what men earned in the previous year. National resources such as the American Association of University Women, the National Organization for Women, and Equal Pay Today provide additional information and resources about the pay gap.
What online resources are there for negotiating for equal pay?
Who/what are you currently paying attention to?
Research: The McKinsey report on Women in the Workforce points to the large number of women leaving the workforce because of childcare during the pandemic.
MIT Alumnae: The exciting announcement of MIT alumna, Ngozi Okonjo Iweala, MCP '78, PhD '81 , becoming head of the World Trade Organization (WTO)
Employer Engagement: All of the employers who are committed to equal pay and who are a part of the Employers for Pay Equity Consortium and their action plans.
For more information, contact Mary Jane Daly daly@mit.edu and Deborah Liverman liverman@mit.edu.
— Deborah Liverman, CAPD