Graduate Student Life Grants Program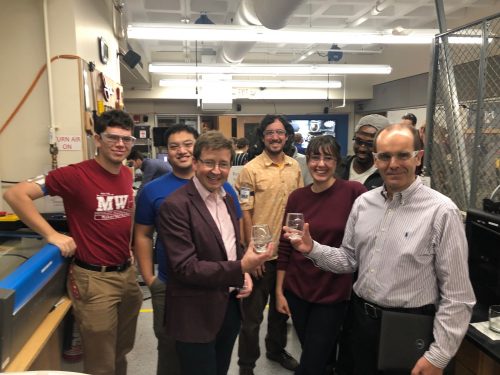 Since 2002, the Graduate Student Life Grants (GSLG) program in the Office of Graduate Education (OGE) has enabled creative ideas for community-building activities among graduate students. This request-for-proposal process invites graduate students, spouses, faculty, and staff to submit project plans for possible funding. The grants provide a unique opportunity to kick-start projects that will enhance graduate student life with experiences outside the classroom and lab. For this year's grants, special focus was given to projects which aim to foster positive student-faculty interactions at the group, department, or inter-departmental level.
A Graduate Community Fellow works closely with the program administrator to handle program logistics and engages with many proposal authors in an iterative process to refine and strengthen elements of their proposals, and to ensure that all activities comply with Institute policies regarding safety and responsible use of funds.
Over the past 17 years, 348 proposals have received funding for a wide range of activities. Both individual grant authors and teams of organizers have executed successful projects that build community by creating a sense of belonging and mattering through shared experiences, particularly among people who rarely congregate. The fall 2019 grants cycle received 21 new proposals and recommended 12 of them for funding, including:
GPSW Friday Writing Re-treat: The project brings GPSW Faculty and Students together through sharing food and friendly conversation during the one-hour lunch break between two intensive Friday classes attended by all GPSW students and multiple faculty members.
EAPS Matrix Lunches: Each month, a computer program chooses four members of the EAPS department to meet for lunch. The lunches give members of the department the opportunity to meet informally and in a small group setting.
Scarves for All: Slated for a single evening during the spring semester, Scarves for All will be a print scarf designing competition for the Architecture Department. After a panel judges the participating designs, the winning team's design will be printed and handed out to the department.
MakerWorks Faculty Student FAB Friday: Through team-building events such as coaster-making or wine-glass etching, FAB Friday seeks to build community among MakerWorkshop staff, faculty, and students.
In addition, two renewal grants were approved for successful continuing projects:
Women in Political Science Coffee Hour: A monthly coffee hour for women Political Science students helps build departmental community.
MIT Gu-zheng Club: The club's passion for the Chinese string instrument, the Gu-zheng, promotes public awareness and appreciation of traditional Chinese arts and culture.
— Jessica Landry, OGE